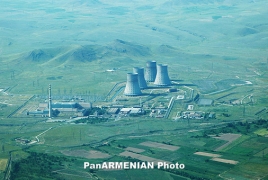 February 6, 2017 - 13:44 AMT
PanARMENIAN.Net - Activities to extend the designed operational term of the Armenian nuclear plant's second power unit will continue in 2017.
According to the head of atomic energy division at the Ministry of Energy and Natural Resources Artem Petrosyan, outlining of modernization procedures of the equipment, systems and facilities, assessment of residual reserves of the equipment, as well as measures to increase the level of radiation safety will be implemented in 2017.
According to Petrosyan, the first phase of the operational lifetime extension activities has successfully terminated in 2016.
Over 4500 units of equipment, systems and elements have been examined so far, as a result of which the possibility of extending the service life of the second nuclear unit has been approved.
The Armenian Nuclear Power Plant is located some 30 kilometers west of Yerevan. It was built in the 1970s but was closed following a devastating earthquake in 1988. One of its two VVER 440-V230 light-water reactors was reactivated in 1995.
Armenian authorities said they will build a new nuclear power plant to replace the aging facility. The new plant is supposed to boast twice the capacity of the Soviet-constructed facility. The plant currently generates some 35 percent of Armenia's electricity.
In March 2014, Armenian government decided to extend the plant's service life because of a delay in building a new unit.