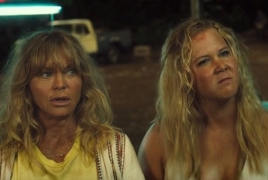 February 8, 2017 - 10:29 AMT
PanARMENIAN.Net - "Snatched" suggests that mother-daughter's vacation is not necessarily sweet. A new trailer for the comedy offers a look at Amy Schumer and Goldie Hawn as polar-opposite mother and daughter, whose trip to Ecuador turns disastrous as they get kidnapped, AceShowbiz said.
Schumer, who plays Emily, is drinking and taking a selfie in the first part of the trailer. When a stranger asks her whether she's visiting Ecuador with her boyfriend, she admits that she is with her mom instead. The scene later switches to show Linda (Hawn) approaching her sunbathing daughter. Linda is very cautious, saying that the sun is very dangerous and starting to cover Emily's skin with sunscreen.
Their vacation turns disastrous when their car crashes and they get kidnapped. The kidnappers steal Emily's debit card and ask for the PIN number, which is simply 1-2-3-4. Emily and Linda later make countless efforts to escape, with Emily asking her mother to believe in her.
"Snatched" is directed by Jonathan Levine and penned by Katie Dippold, who also wrote "Ghostbusters (2016)" and "The Heat". Also starring in "Snatched" are Wanda Sykes, Ike Barinholtz, Christopher Meloni and Randall Park.
After her boyfriend dumps her on the eve of their exotic vacation, impetuous dreamer Emily Middleton (Amy Schumer) persuades her ultra-cautious mother, Linda (Goldie Hawn), to travel with her to paradise. Polar opposites, Emily and Linda realize that working through their differences as mother and daughter-in unpredictable, hilarious fashion-is the only way to escape the wildly outrageous jungle adventure they have fallen into.
The mother-daughter flick is set to be released in the U.S. on Mother's Day, May 12.