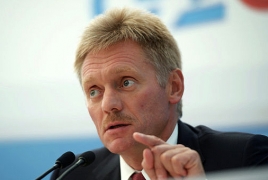 February 8, 2017 - 15:55 AMT
PanARMENIAN.Net - No negotiations over the case of Russian-Israeli blogger Alexander Lapshin are currently underway but all possible legal actions are being taken to defend him, Kremlin spokesman Dmitry Peskov said on Wednesday, February 8.
"He is a Russian citizen. We continue defending his interests in accordance with the law," Peskov said.
Lapshin was flown from Minsk to Baku amid objections from both Moscow and Israel over the decision.
His extradition to Azerbaijan on Tuesday, February 7 occurred hours after the Belarusian Supreme Court upheld a ruling by a lower court to send him to Baku.
Lapshin, 40, a dual Israeli-Russian citizen, divides his time between Israel and a few other places. He was arrested on December 15 in Minsk, the capital of Belarus, at the request of Azeri authorities who demanded his extradition. The arrest was made one day after Prime Minister Benjamin Netanyahu visited Baku, the capital of Azerbaijan.
Lapshin was arrested following his visits to Karabakh as well as due to critical posts in his Russian-language blog against Azerbaijani President Ilham Aliyev.