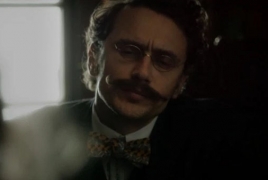 February 8, 2017 - 15:21 AMT
PanARMENIAN.Net - Momentum Pictures has released the first trailer for James Franco's movie "The Institute". Set in 19th century Baltimore and based on true events, the psychological thriller features Franco as a creepy doctor who executes disturbing experiments on his patients, AceShowbiz reports.
The trailer, which is released via Entertainment Weekly, opens with two people entering an institute gate. A girl named Isabel (Allie Gallerani) is in grief after her parents' death and checking herself into the institute. A staff later assures her that she is "in safe hands."
One day, sleeping Isabel is visited by a stranger who turns out to be Dr. Cairnes (Franco). He later asks Isabel her wish, and she answers, "I just want to be free." Dr. Cairnes responds, "I can give you the freedom you desire, but you will need to trust my methods-unorthodox though they may seem."
Isabel's hope to be free, however, turns into a nightmare when the doctor uses her for violent experiments consisting of personality modification, brainwashing and mind control. The doctor insists that his experiments are meant to be a treatment. Unwilling to trust him, Isabel tries to escape from the institute's clutch as well as commits a revenge.
Besides taking on the lead role, Franco directs the movie along with Pamela Romanowsky. Other cast members include Eric Roberts, Tim Blake Nelson and Lori Singer. The movie is set to open in limited U.S. theaters on March 3.