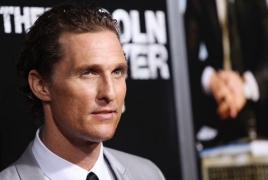 February 8, 2017 - 15:32 AMT
PanARMENIAN.Net - Matthew McConaughey is set to lead stoner comedy "The Beach Bum". The Academy Award winner is teaming up with "Spring Breakers" writer and director Harmony Korine for the new movie, AceShowbiz said.
It's been 24 years since McConaughey was involved in a drug-themed flick. Back in 1993, he was one of the cast members of drug-themed movie "Dazed and Confused". In "The Beach Bum", McConaughey will play Moondog, a lovable and rebellious rogue who lives his life to the fullest.
" 'The Beach Bum' will be a wild, audacious ride!" says Korine. "And I can't think of anyone better than Matthew McConaughey to play our hero Moondog, a rebellious charmer in this fast-paced, uplifting and irreverent comedy."
Producer John Lesher from Le Grisbi Productions adds, "In 'The Beach Bum', Harmony has crafted the perfect movie for our dark and serious time-a refreshingly original, irreverent and hilarious stoner comedy that only he could create."
Thorsten Schumacher, the CEO of Rocket Science which will handle "The Beach Bum" international sales, also comments on the stoner comedy. "Exhilarating and outrageous, Matthew McConaughey's Moondog character is pure charisma-a force of nature and an uncompromising maverick with a lust for life and everything it throws at him," he says.
McConaughey recently starred in and served as producer for crime adventure "Gold (2016)". The 47-year-old actor also voiced Buster Moon in high-grossing animated movie "Sing" as well as lent his voice to Beetle in Oscar-nominated "Kubo and the Two Strings". McConaughey's other movie "The Dark Tower" is set to be released on July 28, while his upcoming crime film "White Boy Rick" will hit U.S. theaters on January 12.