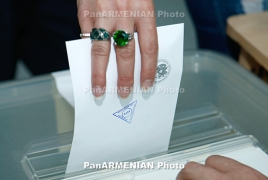 February 17, 2017 - 13:36 AMT
PanARMENIAN.Net - The process of nominating parties and alliances for the Armenian parliamentary elections concluded on Thursday, February 16 as all the blocs submitted their electoral lists to the Central Electoral Commission.
Four parties and five party alliances will run for the parliament - the ruling Republican Party (RPA), Tsarukyan alliance, Exit (Yelk) alliance, Ohanyan-Raffi-Oskanian alliance, The Armenian Revolutionary Federation (ARF), the Armenian Renaissance, Armenian National Congress (ANC) - People's Party of Armenia alliance, the Communist Party, the Free Democrats Party - Freedom Party alliance.
Defense minister Vigen Sargsyan, Yerevan mayor Taron Margaryan, justice minister Arpine Hovhannisyan, MP Ara Babloyan and culture minister Armen Amiryan head RPA's proportional list.
Tsarukyan alliance is comprised of the Prosperous Armenia Party (PAP) and Alliance party, whose head Tigran Urikhanyan was once a PAP member. Gagik Tsarukyan, founder and former leader of Prosperous Armenia, heads the alliance's list, followed by former chairman of the Control Chamber Ishkhan Zakaryan, head of Prosperous Armenia parliamentary faction Naira Zohrabyan, as well as former MP Vardan Bostanjyan and PAP lawmaker Mikayel Melkumyan.
Exit is an opposition alliance of three parties - Bright Armenia, Civil Contract, and Republic - whose list is headed by Edmon Marukyan, Aram Sargsyan and Nikol Pashinyan.
Former defense minister Seyran Ohanyan, Armen Martirosyan from Heritage party and former foreign minister Vartan Oskanian will head the proportional list of Ohanyan-Raffi-Oskanian alliance, while founding leader of Heritage party Raffi Hovannisian comes in under number 11.
The first five places of the ARF list are occupied by Armen Rustamyan, Aghvan Vardanyan, Davit Lokyan, Armenuhi Kyureghyan and Levon Mkrtchyan.
There are no surprises on the Armenian Renaissance's list, which is headed by Artur Baghdasaryan, the leader of the Rule of Law party, which was renamed to Armenian Renaissance in 2015. Also included in the list are Mher Shahgeldyan, Heghine Bisharyan, as well as Hovhannes Margaryan and Ishkhan Khachatryan.
MP Khachatur Kokobelyan tops the Free Democrats Party list, followed by MP Hrant Bagratyan, former lawmakers Styopa Safaryan and Anahit Bakhshyan, as well as Masis Ayvazyan.
Former Armenian president Levon Ter-Petrosyan will head the proportional list of Armenian National Congress (ANC)-People's Party of Armenia alliance. Following Ter-Petrosyan are Stepan Demirchyan, Levon Zurabyan, Zoya Tadevosyan, Aram Manukyan and Gagik Jhangiryan.
The Communist Party will be represented by Tachat Sargsyan, Vazgen Safaryan, Gagik manukyan, Mara Shahinyan, Hamlet Danielyan to name a few.