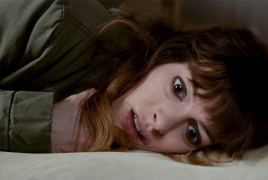 February 17, 2017 - 16:29 AMT
PanARMENIAN.Net - New trailer of Anne Hathaway-starring "Colossal" has been released for the audience's viewing pleasure. The movie follows Gloria (Hathaway), a jobless woman who somehow thinks she has a strange connection with a monster which wreaks havoc in South Korea. While the previous trailer focused on the depressing tone of the movie, the new one mostly highlights the comical side of Gloria's life and fun remarks she exchanges with her friends, AceShowbiz said.
The trailer starts with Gloria's childhood friend Oscar (Jason Sudeikis) asking her, "You don't remember everything?" Gloria, who seemingly has just recovered from hangover, suggests that she doesn't remember everything from the night before. Oscar suggests that Gloria has just been dumped by her boyfriend, moving back to her hometown and has done something embarrassing which is not yet revealed in the trailer.
Later, news announces that a giant monster is materializing over South Korea. Gloria somehow assumes that she is connected to the far-off phenomenon, that she controls the monster. When Gloria raises her hand, the monster does the same. When she dances, the monster imitates her gesture. Gloria later wonders why her insignificant existence makes such colossal effect to the world.
New poster of the movie has also been dropped by distributor NEON on its official Twitter account. The poster signifies the comical aspect of the movie as well, with bold pink color as its background and a middle finger adorned with tiny turquoise head of a monster.
The movie premiered at last year's Cannes film festival and received favorable reviews. Nacho Vigalondo, who directed Spanish thriller "Timecrimes" and "Open Windows", helmed the upcoming film. Also starring alongside Hathaway and Sudeikis in the movie are Dan Stevens, Tim Blake Nelson and Austin Stowell.
"Colossal" is scheduled to hit U.S. theaters on April 7.