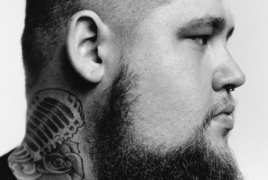 February 20, 2017 - 13:50 AMT
PanARMENIAN.Net - Rag'n'Bone Man has hit the big time. Not only has he just got number one - that was obvious considering mid-week sales - he's also become the fastest selling male debut album of the decade, Gigwise said.
The Brighton soul singer-songwriter, real name Rory Graham, managed this record having sold 117,000 copies across physical (which made up 67% of his total sales), download and streaming. This outstanding achievement means the rest of the rest of the Top 10 combined don't add up to what he's accumulated.
Impressively, the South London-based soul singer-songwriter has had a bigger opening week than debut albums by the likes of Ed Sheeran (+, 2011) and Sam Smith (In The Lonely Hour 2014).
Given that this time last year he was largely unknown, it's strange and fantastic to mention him in the same breath as the following. But, only One Direction's Up All Night (139k), Rebecca Ferguson's Heaven (128k) and Noel Gallagher's High Flying Birds' self-titled release (123k), all released in 2011 sold more.
The BRITs Critics' Choice Award has evidently been great leverage and he's harnessed it better than anyone, even Adele had lower week one sales.
Gigwise premiered a live session of his track 'Human' last year and praised him for being comparable to Cee Lo Green for the sheer majestic power of his vocals and the level of quality in his voice is evidently a rare thing as it has magnetic pull.
Even the highly opinionated music industry guru Bob Lefsetz, who writes the Lefsetz letters, which have an intense brilliance and captivate readers from Steven Tyler to Rick Nielsen to Bryan Adams to Quincy Jones to EVERYBODY who's in the music business had praise for him. At Output conference in Belfast yesterday, he's explained that he's baffled that America are yet to wake up to his talent. "There's not noise for him, it's crickets" he said. Cracking America is Rag'N'Bone Man's next challenge then.