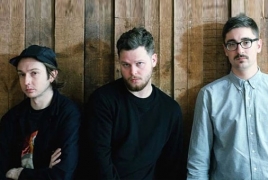 March 6, 2017 - 17:00 AMT
PanARMENIAN.Net - Alt-J have released the first song from their third album 'Relaxer', Gigwise reports.
The track, '3WW', emerged after the album was announced with a cryptic trailer on Friday featuring a one-minute snippet of the new song. The trailer carried the title '00110011 01110111 01110111', which is binary code for '3WW'.
Stereogum reported that the eight-track album, recorded in studios across London, would be called 'Relaxer' and is set for release on June 9. It follows their Mercury Prize winning debut 'An Awesome Wave' from 2012 and 2014's second album 'This Is All Yours'.
'3WW', which stands for 'Three Wrong Words', is a five-minute ambient glitch-country track featuring vocals from Wolf Alice's Ellie Rowsell and strings by the London Metropolitan Orchestra.
Writing on social media, the band said: "We'd like to thank you for your patience over the last year or so. After finishing touring [second album] This Is All Yours in December 2015 we took a long break. Thom released a solo album; Gus opened a restaurant; Joe has been watching a lot of films. We hadn't set a time limit on our time off but by August 2016 we were ready to get back into the studio. The result is our third album, Relaxer, and we are really excited for you to hear it."
The full tracklisting of Relaxer is:
'3WW'
'In Cold Blood'
'House of the Rising Sun'
'Hit Me Like That Snare'
'Deadcrush'
'Adeline'
'Last Year'
'Pleader'
Adding to international festival dates throughout the summer, Alt-J have also announced a show at the O2 Arena in London on 16 June as part of the venue's 10th anniversary celebrations.