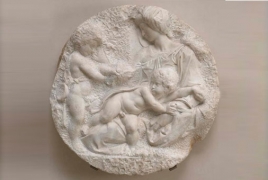 March 7, 2017 - 18:43 AMT
PanARMENIAN.Net - The only marble sculpture by Michelangelo in Great Britain - The Virgin and Child with the Infant St John, also known as the Taddei Tondo – has been announced as an exceptional loan to The Credit Suisse Exhibition: Michelangelo & Sebastiano (opens 15 March 2017), Art Daily said.
The work has been a key part of the Royal Academy collection since it was bequeathed by Sir George Beaumont, entering the collection in 1829. It has only ever been lent once in the 188 years since, and that was over 50 years ago (in 1966) to an exhibition on the Tondo at the Victoria and Albert Museum.
Dr Gabriele Finaldi, Director of the National Gallery, says "We are very excited to present Michelangelo's unfinished masterpiece in the National Gallery's exhibition. Dynamic and delicate, the Taddei Tondo is one of the most important Renaissance works of art in Britain."
Christopher Le Brun, President of the Royal Academy of Arts, said: "The Taddei Tondo is one of the most significant treasures in the Royal Academy's collection. We are delighted to be working with the National Gallery on this major loan to their exhibition, which will provide new and fresh ways of looking at this remarkable sculpture as well as introducing it to wider audiences, before it returns to the RA to be redisplayed as part of our 250th anniversary in 2018."
The work was commissioned by Taddeo Taddei around 1504/05 in Florence. At this time he also executed two other circular compositions, a painting, the Doni Tondo (Uffizi, Florence) and a marble relief, the Pitti Tondo (Bargello, Florence).
At the left side of the Tondo stands the infant figure of St. John the Baptist, with his attribute of a baptismal bowl. He presents a goldfinch (representing the Passion) to the infant Christ, who momentarily turns away, towards his mother, as though symbolically anticipating his future destiny.
The Taddei Tondo is one of several unfinished sculptural works by Michelangelo, which, since the sixteenth century, have been the focus of much scholarly debate. It is likely that he abandoned some of his sculptures on account of over-commitment to too many projects. His biographer Giorgio Vasari, who knew him, suggested that he did not complete certain compositions out of creative frustration, an idea which has crystallised into the notion of the artist as troubled genius.
Matthias Wivel, curator of The Credit Suisse Exhibition: Michelangelo & Sebastiano says "We are absolutely thrilled to be able to show this masterpiece as part of the exhibition. It demonstrates beautifully Michelangelo's mastery of carving, and the emotional and spiritual clarity of his work. In juxtaposition with Sebastiano's 'The Madonna and Child with Saint Joseph, Saint John the Baptist and a Donor' from the National Gallery's collection, it sums up perfectly the creative kinship between the two artists: Sebastiano's synthesis of Michelangelesque figures and Venetian principles of formatting and colouring."