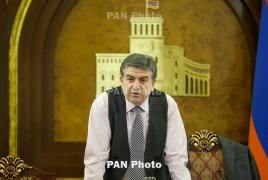 March 9, 2017 - 16:27 AMT
PanARMENIAN.Net - Armenia is ready to take unpopular steps including cutting state spending and eliminating barriers to private investment in order to get the ailing economy back on a sustainable footing by next year, prime minister Karen Karapetyan said in an interview with Reuters.
Armenia's growth rate slowed to 0.2 percent in 2016 from 3 percent in 2015. That was below the government's target of 2.2 percent, a figure Karapetyan said should be exceeded as soon as this year.
"Regular structural reforms will be implemented in Armenia, even if these reforms are unpopular," the prime minister said.
Cutting administrative expenses, and plans to reduce the budget deficit to 2.7 percent of national output this year from the 5.9 percent expected for 2016, might impact economic growth. But the measures were necessary, he said.
"It will have a negative impact ... but we want to compensate it through private investment," Karapetyan said.
"I think we will be able to withstand (problems) and achieve 3.2 percent growth this year."
Karapetyan, 53, a former head of national gas distributing company ArmRosGazprom and mayor of the capital Yerevan from 2010-2011, was appointed prime minister in September.
He said that his government would also focus on fighting corruption and "eliminating all barriers that impede business from developing".
In its 2016 Corruption Perception Index, Transparency International ranked Armenia 113 out of 176 countries.
"As soon as we manage to stabilise the economic situation, we'll be able to have sustainable growth from 2018," Karapetyan said.
According to officials, the government is preparing an economic development programme that will target growth of between 4-5 percent from 2018.
Karapetyan said a new centre for strategic initiatives would look to draft short- and long-term projects with the private sector.
He said it was "realistic" to try to attract $850 million of investment this year, with the bulk coming from the private sector.
Armenia attracted $513 million in foreign direct investment in the first half of 2016, up from $323 million in the same period a year ago, according to national statistics office data.
Countries with significant investments in Armenia include Russia, Germany and France and the main sectors attracting funding are agriculture, energy and tourism.