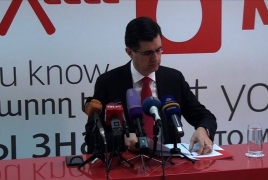 March 9, 2017 - 18:35 AMT
PanARMENIAN.Net - During more than eleven years of operation, in the framework of the Corporate Social Responsibility strategy, VivaCell-MTS has allocated AMD 28,015,900,000 for the implementation of social investment projects in Armenia aimed at the improvement and sustainable development of various areas of social life.
Out of the above-mentioned sum, AMD 1,338,400,000 is set to be invested in 2017. On an annual basis, the total volume of social investments exceeds AMD 2.2 billion. Each year, over 82 public events have been organized on average.
The social investments program is based on a long-term comprehensive strategy, encompassing a wide range of sectors, carried out on a regular basis with the aim of ensuring sustainable development.
The main directions of VivaCell-MTS' social investments in various areas of social life over the years are as follows:
Provision of houses to 40 socially vulnerable families from Gyumri and Vanadzor who were left homeless after the earthquake; completion and renovation of houses in 58 rural communities, including 200 houses for families living in border regions in the framework of the Fuller housing project.
191 infrastructure development projects in 50 rural communities of ten Armenian provinces, including installation of gas, irrigation and potable water pipelines, construction of alternative energy infrastructure (outdoor LED lighting and heating systems). The rural community development program also includes renovation of regional educational institutions and cultural centers, as well as construction of a protective wall in the border villages.
Environmental protection programs which include increasing environmental awareness among over 2000 young people, creation of more than 1000 workplaces, preparation of over 40 documentaries on environmental themes by students of the Sunchild eco-clubs. In the framework of the programs aimed at the preservation of biodiversity, modern equipment has been provided to the eco-educational center for monitoring 8000-acre territory of the Caucasian Biodiversity Center, and a new base station has been installed near the center.
In the framework of healthcare activities, over 30 types of state-of-the-art medical devices have been provided to medical institutions in Yerevan and over 31 rural communities, including maternity departments with the aim of improving neonatal care in Armenia. Professional healthcare has been provided to over 400 children with special needs. Hippotherapy courses have been organized for over 100 children.
With the aim of supporting culture and activities directed at the preservation of national identity, over 2000 concerts and various cultural events have been organized in the capital and the provinces.
Support to the development of the ICT sector, including to the Award of the President of Armenia for Outstanding Contribution to Global IT initiative, the Annual Microelectronics International Olympiad, creation of FabLabs.
Under a Memorandum of Understanding signed by VivaCell-MTS, the Ministry of Education and Science of Armenia, Synopsys Armenia and Unicomp, a project on specialized ICT education is implemented, with Microelectronics, Basics of Telecommunication and Information Technologies included in high school curricula. VivaCell-MTS has financed the establishment of corresponding laboratories.
Provision of tuition fee to 1200 students with special needs, from socially vulnerable families or orphans.
Creation of Wi-Fi corners and labs in 30 higher education institutions and 16 schools in different parts of Armenia.
Support to the development of sports, including chess, football, archery, etc.
"For over 11 years VivaCell-MTS has been committed to its Corporate Responsibility agenda which lies at the heart of our value system. Large-scale social investments aimed at sustainable development are just a component of this agenda. It is equally important to contribute to the introduction and integration of the Corporate Responsibility institute in Armenia both at the company level, and through social investment projects with coordinated and regular efforts," said VivaCell-MTS General Manager Ralph Yirikian.
The engagement of VivaCell-MTS employees in various projects has considerably boosted the culture of volunteering in Armenia. This model of corporate governance has been at the core of the company since the first years of its operation.
VivaCell-MTS is the only telecommunications operator in Armenia and the first company in the CIS to have implemented the ISO 26000 social responsibility guidelines.