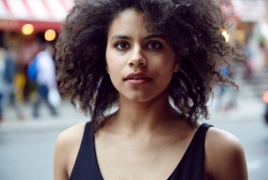 March 10, 2017 - 11:07 AMT
PanARMENIAN.Net - After a long speculation about who may play Domino in "Deadpool 2", "Deadpool" producer and star Ryan Reynolds finally takes to his Twitter account to give an official announcement about the cast. Reynolds announces in a rather Deadpool-ish way that the female mutant will be portrayed by "Atlanta" star Zazie Beetz, AceShowbiz said.
The actor firstly gives a hint by posting an image of dominoes. If we look carefully at the image, there are additional dots which shape Beetz's name. Reynolds also writes "Domino Effect" for the caption.
Reynolds later posts a hilarious image that features Beetz's head which is photoshopped into an old "Deadpool" comic cover. Beetz's Domino smiles widely and fires guns in the picture, posing on Deadpool's back.
Reynolds' announcement ends the speculation once and for all. Earlier on, several names who were often associated with Domino included Kerry Washington, Janelle Monae, Mary Elizabeth Winstead, Lizzy Caplan, Gugu Mbatha-Raw and Sienna Miller.
Domino is a mercenary who debuted in Marvel's 1991's "New Mutant No. 98", the same issue which introduced Deadpool himself. Created by Rob Liefeld and Fabian Nicieza, Domino has special telekinetic gifts which enable her to create a good luck for herself and others in any situation.
Domino's depicter Beetz is known for her role as Van on Donald Glover's "Atlanta". Beetz will soon be seen in horror-comedy "Slice" which centers on a murdered pizza delivery driver.
As for "Deadpool 2", the second installment of "Deadpool" movie series is set to hit U.S. theaters on March 2, 2018. Stefan Kapicic (Colossus), Karan Soni (Dopinder the taxi driver) and Brianna Hildebrand (Negasonic Teenage Warhead) will return alongside Reynolds for the second film.
Mutant Cable will be featured in the movie as a new character along with Domino. Pierce Brosnan and Russell Crowe are rumored to play the mutant, though there hasn't been any official announcement about the cast.