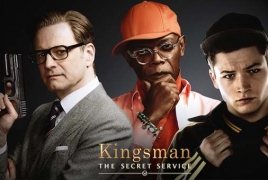 March 14, 2017 - 14:56 AMT
PanARMENIAN.Net - Warner Bros. is reportedly eyeing Matthew Vaughn, the filmmaker behind "Kingsman: The Secret Service", to direct "Man of Steel 2". Some "preliminary conversations" about the possibility are taking place. And if for some reasons he doesn't helm the movie, the studio still wants him to be involved in other DC Extended Universe films, AceShowbiz reports citing Collider.
"Man of Steel 2" will apparently focus on the battle between Superman, Supergirl and Brainiac. The alien droid presumably craves the genetic codex of the entire Kryptonian race and wants to seize it from anyone who has it. The codex is the one General Zod was after in "Man of Steel".
Should the deal be sealed, the "Man of Steel" sequel will mark Vaughn's return to superhero films. Vaugn successfully directed "X-Men: First Class" and previously helmed a comic book adaptation "Kick-Ass". For now, Vaughn is still in post-production of "Kingsman: The Golden Circle", which is set to hit U.S. theaters on September 29.
Aside from "Man of Steel 2", Vaughn will be directing and producing terrorism thriller "I Am Pilgrim". It's based on Terry Hayes' novel of the same name. Vaughn's movie credits also include "Eddie the Eagle", "X-Men: Days of Future Past", "Kick-Ass 2", "The Debt" and "Stardust".