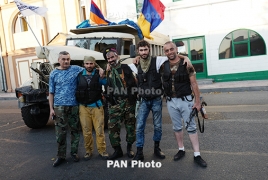 March 16, 2017 - 13:35 AMT
PanARMENIAN.Net - Founding Parliament opposition group leader Jirair Sefilian and Sasna Tsrer in a statesment welcomed the "rebellious aspiration" of the supporters of Ohanyan-Raffi-Oskanian (ORO) bloc during recent clashes in the village of Jrarat in Armenia's Armavir province.
Sasna Tsrer (Daredevils of Sassoun) stormed a Yerevan police patrol department in mid-July and took everyone inside hostage. Throughout the following days, the group released the captives one by one. After negotiations that lasted for a little over two weeks, the gunmen agreed to surrender to law enforcement bodies. Three police officers were killed during this period.
A joint declaration, in particular, says that "not only did ORO followers revolt against the abuse of citizen's rights, honor and dignity, but they also punished the lawbreaker, who is the brother of one of the main "levers" of colonial administration, commander of police forces Levon Yeranosyan."
Yeranosyan's brother who also serves in the police was beaten during the latest brawl in Jrarat.
Also, Sefilian and Sasna Tsrer hailed "Seyran Ohanyan's (Ohanyan heads ORO's proportional list - editor's note) resolute and dignified attitude towards the incident."
A collision between supporters of ORO bloc and Jrarat mayor was reported on March 12, followed by another one on March 14.
Parliamentary elections will be held on April 2. Nine parties and blocs running for seats at the National Assembly have already launched their election campaigns.