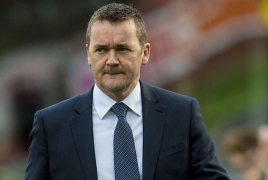 March 16, 2017 - 12:31 AMT
PanARMENIAN.Net - Former Celtic striker Andy Walker believes that Manchester United will finish ahead of Liverpool and reach the top four this season, The Peoples Person reports.
It was thought by many back in early December that Jose Mourinho's men, nine points off fourth spot having managed just two Premier League wins since September, would miss out on a top four spot.
However, a 17-game unbeaten run has taken Man United to within six points off fourth spot with two games in hand heading into the closing stages of the season.
Walker, speaking on Sky Sports, believes that United have what it takes to claim a Champions League spot this season.
"I think they will [finish in the top four]," he said. "I think they'll squeeze Liverpool out. That's the most important thing now."
He was also quick to question Michael Oliver's decision to hand Ander Herrera a red card during United's 1-0 defeat to Chelsea in the FA Cup quarter final on Monday night and explained why he felt sorry for Henrikh Mkhitaryan.
"If you're a referee and you can keep it 11 v 11, I prefer that way of refereeing," he added.
"If a player does something outrageous by all means send him off but I don't think Herrera did enough to merit two yellows and a red card.
"I do accept there was a targeting of Hazard with two or three other players but it was an FA Cup quarter-final, there was a huge crowd there and the stakes are high.
"I really felt sorry for Henrikh Mkhitaryan, who was the guy who suffered. He quickly had to be substituted and it changed the whole complexion of the game. It was a great pity."
Mkhitaryan being taken off effectively nullified our attacking threat. Without him, United had to resort to long balls over the top and hope Marcus Rashford's pace could cause Chelsea problems which it did but he couldn't sustain that amount of running for the full 90 minutes unsurprisingly. The red card really did change the whole complexion of the game in Chelsea's favour.