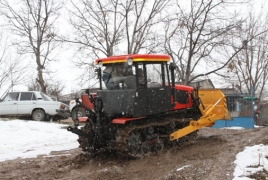 March 17, 2017 - 13:05 AMT
PanARMENIAN.Net - VivaCell-MTS and the Foundation for the Preservation of Wildlife and Cultural Assets (FPWC) continue to support the village of Mozrov in Armenia's Vayots Dzor province. In order to improve the efficiency of agricultural labor, the cooperating organizations donated a DT-75 caterpillar tractor, produced in 2016, to the village. The agricultural machinery has been provided in the framework of the joint Community Development program.
Despite the extreme necessity, the residents of Mozrov have never had a tractor; they used the tractors of neighboring villages, which caused additional expenses. For a border village, which relies heavily on agriculture, this crucially important equipment will be used as a tool during spring, summer and fall, and in winter months to clean the roads of the village.
During winter months, the roads to the village are often closed because of heavy snowfall. For this reason, the village sometimes remains isolated for weeks. Next winter, regardless of weather conditions, this problem will no longer be insurmountable.
In order to donate the new farming equipment to the community, the General Manager of VivaCell-MTS Ralph Yirikian and the Founder of FPWC Ruben Khachatryan visited Mozrov, met and exchanged ideas with the community head Ara Levonyan, as well as the residents of the community.
"Community development has been among the major directions of our strategy for more than eleven years. That's one of the ways to show responsible attitude. We have tried to develop infrastructures step by step. The agricultural equipment we provide is as important as the rest of the conditions created for normal life. Border villages will remain in the focus of our attention this year," said Yirikian.
Tangible results of the cooperation between FPWC and VivaCell-MTS have been registered many times in this community. In 2016, a 2050-meter-long water pipeline has been built in Gnishik community, which includes Gnishik and Mozrov villages in the framework of Alternative Energy program, which provided the community with 24/7 water supply. And in 2015, the streets of the community were provided with a light-emitting diode (LED) system. 37 columns of lighting have been installed.
The Mozrov village has 72 inhabitants who are mainly engaged in agriculture, cattle-breeding and bee-keeping. The region is especially known for its historical and cultural values, as well as its lush nature. Cross-stones (khachkars) dating from the 4th-5th centuries have been found here alongside chapels, tombs, and many caves. This unique area is home to the Armenian mouflon, registered in the Red Book of Armenia, Bezoar ibex, brown bear, lynx, Caucasus leopards and other species.