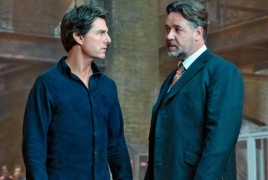 March 18, 2017 - 14:16 AMT
PanARMENIAN.Net - New featurette of "The Mummy" has been released for the audience's viewing pleasure. The featurette reveals the inner workings behind one of the scenes featured in "The Mummy" trailer, in which Tom Cruise and Annabelle Wallis float wildly in an airliner when it is about to crash, AceShowbiz said.
The video shows that the scene was not made by green screen effects, but built in an actual plane with zero gravity (Zero G) instead. It also reveals that Cruise and Wallis actually did their own stunts for the scene. We can see that they go weightless in the featurette, pulling off the stunt at 25,000 feet.
"I had this idea of creating Zero G sequence," says Cruise in the video. "There is a physical challenge in doing Zero G. It was really developed for the Apollo missions," he adds. He later says, "We had to prepare as best we could, but then we don't quite know exactly what's going to happen." At the end of the video, director Alex Kurtzman says, "Oh my God, that's so good," suggesting that Cruise and Wallis did their stunts very well.
Tom Cruise headlines a spectacular, all-new cinematic version of the legend that has fascinated cultures all over the world since the dawn of civilization: "The Mummy". Thought safely entombed in a tomb deep beneath the unforgiving desert, an ancient princess (Sofia Boutella of "Kingsman: The Secret Service" and "Star Trek Beyond) whose destiny was unjustly taken from her is awakened in our current day, bringing with her malevolence grown over millennia and terrors that defy human comprehension.
From the sweeping sands of the Middle East through hidden labyrinths under modern-day London, "The Mummy" brings a surprising intensity and balance of wonder and thrills in an imaginative new take that ushers in a new world of gods and monsters.
"The Mummy" marks the first installment of Universal Monster Cinematic Universe. The movie will hit U.S. theaters on June 9. Starring alongside Cruise, Wallis and Boutella in the movie are Russell Crowe, Jake Johnson and Courtney B. Vance.