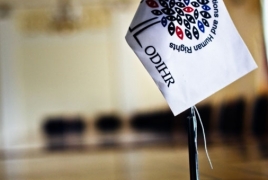 March 18, 2017 - 16:11 AMT
PanARMENIAN.Net - OSCE Office for Democratic Institutions and Human Rights (ODIHR) on Friday, March 17 released its interim report on the Armenian parliamentary elections, to be held on April 2.
"Voter registration is passive and based on the population register. OSCE/ODIHR EOM (Election Observation Mission) interlocutors generally assessed the accuracy of the voter list positively. In line with the law and in an effort to prevent voter impersonation, the CEC intends to publish scanned copies of the signed voter lists after the elections," the organization said.
"On election day, in a further effort to prevent voter fraud, voters will be identified through electronic Voter Authentication Devices (VADs). The use of VADs has been welcomed by most OSCE/ODIHR EOM interlocutors. However, due to the late development of the software and testing of the VADs, concerns have been raised about their functioning on election day."
In an inclusive process, the CEC registered candidate lists of five political parties and four party alliances, the report says, adding that there are a total of 1,558 candidates of which 30% are women.
"Allegations have been raised about widespread vote-buying by most OSCE/ODIHR EOM interlocutors. There is also a prevalent perception that pressure and intimidation of voters will occur during the campaign," the report says.
"The media environment is dominated by politically affiliated television. A free Internet contributes to political pluralism and critical reporting. Contestants have so far received an equal amount of free airtime on the public broadcaster and have the right to purchase advertising time under equal conditions."
"The contestants provide regular reporting on campaign finance, including before election day. Despite a prior OSCE/ODIHR recommendation, so-called organizational expenditures, such as for campaign offices, transport, and communication are excluded from the reporting," it added.
"The legal framework provides for international and citizen observation and entitles party proxies to be present at polling stations. To address potential overcrowding certain limitations were introduced on the number of citizen observers and media representatives at polling stations. Civil society and journalists raised concerns about these provisions."
The OSCE/ODIHR EOM opened in Yerevan with a press conference on 21 February. The EOM has met with the President, the Minister of Justice, the Deputy Minister of Foreign Affairs, the President of the Constitutional Court, the CEC Chairperson, the Prosecutor General and representatives of political parties, civil society, and the resident international community. The EOM has established regular contacts with the CEC, TECs, governmental institutions at national and local level involved in the electoral process, political parties, civil society, and the media.