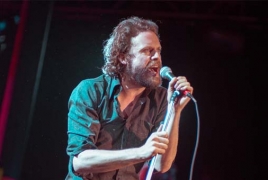 March 20, 2017 - 15:06 AMT
PanARMENIAN.Net - Father John Misty has released a series of satirical new tracks on SoundCloud under the title 'Generic Pop Songs', NME reports.
Three new tracks have been uploaded, 'Generic Pop Song #3', 'Generic Pop Song #9' and 'Generic Pop Song #16'.
In the tracks, Misty draws heavily on and parodies popular chart music tropes. These include the 'millennial whoop', the euphoric build of club hits, and piano ballads.
The lyrics are simplistic. In 'Generic Pop Song #16', Misty sings, "You make me what I am/Better or for worse/Listen or recurse, it's you and me."
The tracks are not scheduled to be included in the artist's upcoming album 'Pure Comedy', out April 7th.
Misty, real name Josh Tillman, has been a contributor for a number of popular artists, including Kid Kudi, Beyonce and Lady Gaga. He also appeared as a cult leader in the music video for Lana Del Rey's track 'Freak'.