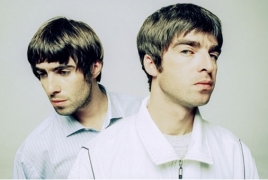 March 20, 2017 - 18:15 AMT
PanARMENIAN.Net - Though the chances of an Oasis reunion still remain slim, Liam Gallagher is apparently keen to make a sequel to last year's documentary 'Supersonic', Gigwise said.
The Matt Whitecross-directed rock doc focused on the early days of the band and charted their meteoric rise to success from Burnage wannabes to Knebworth headlining behemoths.
The 44-year-old singer – soon to be releasing his first solo album – is keen to get cracking on with a follow-up if Whitecross is to be believed. Speaking with the Daily Star at the Empire Awards 2017 where he scooped the prize for Best Dcoumentary, he reckons that it could be on.
He said: "Liam and Noel Gallagher were really generous. Everything we asked for they gave us.
"Liam said he wants to make a sequel. I don't know if he was joking or not."
Despite the accolade, neither of the Gallagher brothers turned up. Only Liam made it to the film's premier last October that, predictably, led to another tirade against the older sibling.
Then Liam said: "He does what he does and I do what I do. This probably ain't A-list enough for him."
And Liam was still raging against Noel on Twitter yesterday after taking offence for apparently dressing down for a recent trip to Burnage.
He said: "See the fake bombing about in his stone island again coz he's in manc he'll be back in his Prada 1st thing tmorrow LG X (sic)"
And then, for good measure, he declared himself better than Noel: "Opening with Don't look back in anger ending with Rocking chair bout time they were done proper LG not for sale.
"To all you NG fanboys I can and will sing any song he wrote bigger better than him even if I was kicked in the b****x by a wood pigeon LG (sic)"
Yep, looks like Satan will be skating to work before that reunion happens any time soon.