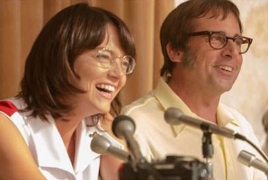 March 22, 2017 - 10:34 AMT
PanARMENIAN.Net - Fox Searchlight's "Battle of the Sexes" gets a release date. The movie, which is based on the 1973 infamous tennis match between Billie Jean King and Bobby Riggs, is scheduled to hit U.S. theaters on September 22, AceShowbiz reports.
Starring Emma Stone as former World No. 1 female tennis player King and Steve Carell as ex-champ Riggs, "Battle of the Sexes" recounts the showdown between the iconic tennis stars that became one of the most-watched sport events of all time. The match is believed to be a symbolic face-off about gender equality.
"Battle of the Sexes" also stars Elisabeth Shue as Mrs. Riggs, Alan Cumming as Ted Tinling, Andrea Riseborough as Marilyn Barnett, Sarah Silverman as Gladys Heldman, Austin Stowell as Larry King and Natalie Morales as Rosie Casals. The sports dramedy film is penned by "Slumdog Millionaire" writer Simon Beaufoy and directed by husband-and-wife filmmaker duo Jonathan Dayton and Valerie Paris.
Meanwhile, the Ocar-winning actress, Stone, previously shared that in order to prepare for the biopic, she spent several hours on the court with King. "She reduced the game to straight hand-eye coordination and had me chasing ball around the court," the "La La Land" star told The Hollywood Reporter back in January.