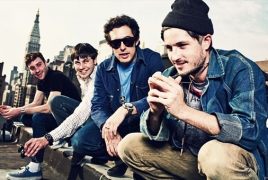 March 23, 2017 - 13:35 AMT
PanARMENIAN.Net - Black Lips have announced their first album in three years, 'Satan's Graffiti Or God's Art?'
The band's follow-up to their 2014 album 'Underneath The Rainbow' will be released on May 5 through Vice Records. To coincide with the album announcement, Black Lips have shared the album's lead single 'Can't Hold On', NME said.
The album was produced by Sean Lennon at his recording studio in upstate New York and features guest appearances from Yoko Ono and Saul Adamczewski of Fat White Family.
The Black Lips' line-up now comprises founding members Cole Alexander and Jared Swilley, plus guitarist Jack Hines, drummer Oakley Munson, and saxophonist Zumi Rosow. Hines has recently rejoined the band having previously served as a Black Lips member from 2002-2004.
Check out the full'Satan's Graffiti Or God's Art?' tracklisting below:
'Overture: Sunday Mourning
'Occidental Front
'Can't Hold On
'The Last Cul de Sac
'Interlude: Got Me All Alone
'Crystal Night
'Squatting In Heaven'
'Interlude: Bongo's Baby
'Rebel Intuition
'Wayne
'Interlude: Elektric Spider Webz'
'We Know'
'In My Mind There's a Dream'
'Lucid Nightmare'
'Come Ride With Me'
'It Won't Be Long'
'Loser's Lament'
'Finale: Sunday Mourning'