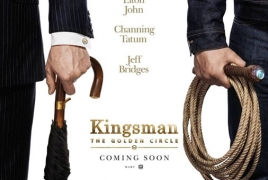 March 31, 2017 - 11:09 AMT
PanARMENIAN.Net - Spy comedy "Kingsman: The Golden Circle" revealed its first trailer during CinemaCon in Vegas on Thursday, March 30, AceShowbiz reports. According to The Hollywood Reporter, the first trailer received big applause from the audience and earned positive reactions. Besides teasing plot details, the trailer also featured new cast members which include Channing Tatum, Julianne Moore, Halle Berry and Elton John.
The trailer begins with Taron Egerton's Eggsy having fun in a spy car completed with missiles, though it's not for long. The Kingsman members learn that a dangerous underworld organization has emerged. However, its members are unidentifiable because their finger prints are removed.
When Kingsman's mansion is destroyed, Eggsy and Merlin (Mark Strong) travel to Kentucky in search for a backup. There, they meet Tatum's character, who serves as a southern spy operative. The most intriguing part is a scene featuring Harry Hart (Colin Firth), who is shown wearing an eye patch.
A new poster has also been released, showing an umbrella which teases the return of Harry Hart.
Also returning to the movie is Sophie Cookson (Roxy/Lancelot). Other cast members include Jeff Bridges (the head of Statesman), Pedro Pascal (Jack Daniels) and Edward Holcroft (Charlie Hesketh).
The first "Kingsman" movie, "Kingsman: The Secret Service", grossed $415 million globally in 2015. The British/American film gained positive reviews and was dubbed a stylish and fun spy flick.
"Kingsman: The Golden Circle" is set to be released in the U.S. on September 29.