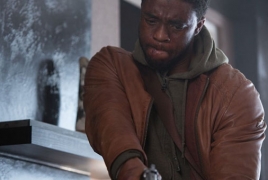 April 3, 2017 - 17:47 AMT
PanARMENIAN.Net - Black Panther depicter Chadwick Boseman will play a brother who avenges his sister's death in upcoming thriller "Message from the King". The trailer of the movie has been released, offering a look at merciless Jacob King (Boseman) who tracks down the culprits responsible for his sister's death, AceShowbiz said.
The trailer sees King going to Los Angeles to look for her sister Bianca (Sibo Mlambo), but she's nowhere to be found. When King finds out that Bianca was actually murdered, he decides to plan a revenge. Enter Luke Evans' Wentworth and Alfred Molina's Preston, who are seemingly responsible for Bianca's death.
"It's Bianca. She's got a brother," Wentworth says. "You told me Bianca was not a problem anymore," replies Preston. Wentworth reminds Preston that Bianca's hometown was Cape Flats, which has the highest murder rate in the world. Wentworth later says that Bianca's brother is not going to go away.
Trying to piece together Bianca's last known movements, King finds unsettling evidence of a life gone off the rails-drugs, sex and secrets in the sleazy underbelly of the City of Angels. Undeterred by warnings to go home, King proves to be more than a match for the violence he is confronted with as he relentlessly pursues the truth about what happened to his sister.
"Message from the King" premiered last September at Toronto International Film Festival. The movie is slated to be released in France on May 10, but it hasn't got a U.S. release date yet. Also starring in the movie are Tom Felton, Teresa Palmer, Dale Dickey and Drew Powell.