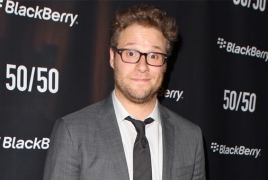 April 5, 2017 - 12:06 AMT
PanARMENIAN.Net - After successfully launching TV series "Preacher", Seth Rogen reunites with Evan Goldberg to work on a new project. The duo is set to bring into the big screen comic book "Invincible" from "The Walking Dead" author Robert Kirkman, AceShowbiz reports.
The graphic novel revolves around Mark Grayson. He is a normal high school student with just one difference between him and his peers - his father is the most powerful superhero on the planet. His life changes after he, too, develops his own set of superpowers.
"For nearly a decade I've had to endure the 'what about Invincible?' question as fans have watched The Walking Dead grow into the multi-media monstrosity it has become over the years," Kirkman said to The Hollywood Reporter. "The answer was always that we were waiting for the right team to partner with. That team has arrived! The esteemed misters Goldberg and Rogen have proven themselves to be top-notch directors with a keen collective eye for stunning visuals after slumming it by writing hit after juggernaut hit."