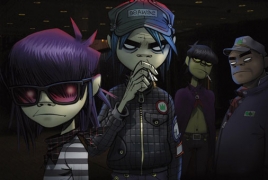 April 7, 2017 - 12:17 AMT
PanARMENIAN.Net - Gorillaz's new album has been described as "a party for the end of the world" following Donald Trump's ascent to Presidency in the US, NME reports.
Earlier on April 6, the Damon Albarn and Jamie Hewlett-led band shared their new Pusha T and Mavis Staples collaboration 'Let Me Out' from upcoming album 'Humanz', which will be released on April 28.
Speaking to Zane Lowe on Beats 1, rapper Pusha T said that Albarn had envisioned a Trump win as a possibility a year ago, before Trump was even the Republican candidate. According to Pusha, Albarn contacted him in spring 2016 and told him "to conceptualise the album, you know, like the album's a party for the end of the world, like if Trump were to win."
Pusha added: "I mean, I didn't even want to think about it, but that did give me a very colourful backdrop into just being like, say anything and attack all issues that I wanted to attack and attack in the song. So when [Trump's election win] really happened, I was like, 'Wait a minute.' And then I started wondering like, what type of crystal ball did this guy have? Like why are you even asking me to even think along these lines? And he really did, man. He was first. I don't think that he thought he was going to win, I'm not gonna go that far, but he definitely conceptualised this whole thing."
Prior to 'Let Me Out', Gorillaz had aired four songs from the record: 'Saturnz Barz', 'Andromeda', 'We Got The Power' and 'Ascension'.
Also speaking in interview with Zane Lowe, Albarn revealed he has another "40 or 45" Gorillaz songs in the works.
"I'm just sort of slowly going through all tunes that sort of didn't work out and finishing them," he said. After revealing that Little Simz features on one of the tracks, Albarn estimated that he has "40 or 45" to work on, and said: "I can stay in the game for at least another 18 months, I reckon."