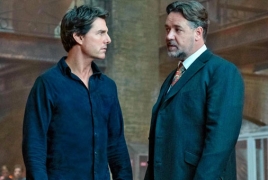 April 8, 2017 - 10:39 AMT
PanARMENIAN.Net - The international trailer for "The Mummy" has arrived online, featuring a brand new opening scene, AceShowbiz said. The scene sees Tom Cruise's Nick Morton and Jake Johnson's Vail having a conversation on a rocky cliff in the desert before doing their mission.
At first, Vail seems very reluctant to go to the valley Nick wants to aim for. "Oh, no, no, no, no, no, we don't even know what's down there," says Vail. However, Nick is sure that there is a treasure to be found. He jokingly says to his friend, "Where is your sense of adventure?"
The scene is later followed by some scenes which have been featured in the second official trailer. There is a series of explosions and a glimpse of Ahmanet's (Sofia Boutella) past. When Nick causes some incidents which awaken the ancient queen, a voiceover says, "Because of your actions, this ancient power has returned." The trailer ends with Vail saying, "You can't run. You can't escape. She's got plans for you."
Tom Cruise headlines a spectacular, all-new cinematic version of the legend that has fascinated cultures all over the world since the dawn of civilization: "The Mummy". Thought safely entombed in a tomb deep beneath the unforgiving desert, an ancient princess (Sofia Boutella of "Kingsman: The Secret Service" and "Star Trek Beyond") whose destiny was unjustly taken from her is awakened in our current day, bringing with her malevolence grown over millennia and terrors that defy human comprehension.
"The Mummy" marks the first installment of Universal Monster Cinematic Universe. The movie will hit U.S. theaters on June 9. Starring alongside Cruise, Johnson and Boutella in the movie are Russell Crowe, Annabelle Wallis and Courtney B. Vance.