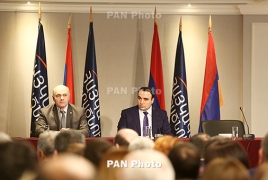 April 8, 2017 - 12:58 AMT
PanARMENIAN.Net - The Armenian Renaissance party decided on Friday, April 7 to not participate in Yerevan municipal elections.
"Taking into account the massive impact of administrative resources, local oligarchic groups and electoral bribery on election results, the party decided against running for Yerevan City Counsil this year," a statement said.
The party declared, however, that it will be actively engaged in public and political processes taking place in the country.
Also, the Armenian Renaissance at a session on Friday weighed in on a number of issues concerning the parliamentary elections, held on April 2.
Based on results calculated in all the 2009 polling stations, the Republican party leads with 49.12% of votes (771 247 ballots), followed by the Tsarukyan bloc with 27.32% (428 965), YELQ with 7.77% (122 049) and the ARF Dashnaktsutyun with 6.57% (103 173).