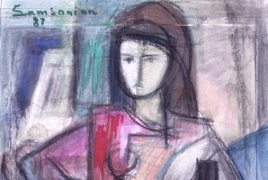 April 10, 2017 - 14:29 AMT
PanARMENIAN.Net - Gallery Z in April will showcase the long tradition of exceptional fine art by many of the world's most talented Armenian artists, past and present, from amongst its stable of over 400 established artists from many different backgrounds.
Featured artist Alexander Grigoryan (1927-2008), a highly celebrated artist of his culture born in Leninakan, Armenia, received the highest honor in Armenian Art. He has painted portraits of William Saroyan, Alex Manookian and film producer Ruben Manuelian.
Grigoryan not only worked in a glorious palette of oils on canvas but was versatile in assorted media, also recognized for his sculptures, pencil portraits and poetry, receiving numerous awards and honorary diplomas.
He graduated from the Yerevan Institute of Art and Theatre, and also studied at the Yerevan Art Specialized School and at the Repin Institute of Painting, Sculpture and Architecture in Leningrad.
A follower of international artist-painter Martiros Saryan, Grigoryan achieved fame after participating in the exhibition "Five Artists of Armenia" (Alexander Grigoryan, A. Kapantsyan, L. Bajbeuk-Melikyan, H. Siravyan, A. Minas).
His works hang in the National Gallery in Yerevan, as well as in museums, galleries and private collections in Moscow, St. Petersburg, Los Angeles, New York, Toronto, Madrid, London, Beirut, Warsaw, Sao Armenia, Lithuania, Ukraine, Kazakhstan, Bulgaria and more.
In addition to Gallery Z's regular website, Director Berge Zobian had previously created a designated Armenian-art website (www.armenianartgalleryz.com) as a user-friendly reference for the gallery's extensive representation of many foremost Armenian artists with their biographies. A diverse collection of works in assorted media will also be on exhibit from a number of recognized Armenian artists.
In addition, Gallery Z displays a rotating selection of original fine art (paintings, photographs, drawings, mixed media, glass, sculptures, assemblages, lithographs) from its stable of over 400 locally, nationally or internationally renowned fine artists, along with fine ceramics and pottery, jewelry and Armenian and international handicrafts. The "Italy" room expands the local Federal Hill Italian ambiance with "Dreamy Venice", luminous handmade Murano glass gifts and jewelry imported from Venice by Gallery Associate Linda Kamajian, set amidst fine art either related to Italy or by some of Gallery Z's established Italian-American artists.
The exhibit will run through Sunday, April 30th.
Gallery Z celebrates its seventeenth year in 2017 of providing a center for experiencing fine art in a historic Providence neighborhood.