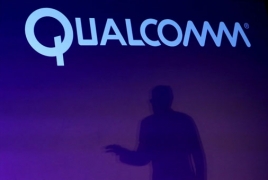 April 11, 2017 - 12:27 AMT
PanARMENIAN.Net - Qualcomm's put on the boxing gloves in a patent spat with Apple. The chipmaker on Monday, April 10, in a 134-page redacted filing, responded to an Apple lawsuit about patent licensing and made some counterclaims of its own, including breach of contract. It also asked for an unspecified amount in damages, CNet reports.
"Over the last 10 years, Apple has played a significant role in bringing the benefits of mobile technology to consumers with its popular products and services," Don Rosenberg, executive vice president and general counsel of Qualcomm, said in a statement. "But Apple could not have built the incredible iPhone franchise that has made it the most profitable company in the world, capturing over 90 percent of smartphone profits, without relying upon Qualcomm's fundamental cellular technologies."
Apple referred CNET back to its filing from January where it said, "For many years Qualcomm has unfairly insisted on charging royalties for technologies they have nothing to do with. The more Apple innovates with unique features such as TouchID, advanced displays, and cameras, to name just a few, the more money Qualcomm collects for no reason and the more expensive it becomes for Apple to fund these innovations."
Qualcomm is the world's biggest provider of mobile chips, and it created some of the essential standards for connecting phones to cellular networks. The company derives a significant portion of its revenue from licensing that technology to hundreds of handset manufacturers and others. Apple designs the processors in its iPhones and iPads, but it buys chips from Qualcomm to connect to 4G LTE and other cellular networks. Under Qualcomm's licensing structure, Apple, through its manufacturers, pays Qualcomm a fee for its chips and another fee for the intellectual property utilized in the chips and mobile phones. Most components suppliers bundle the IP cost in with the chip sales price.