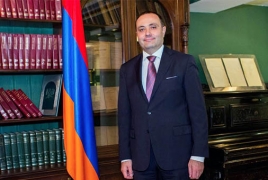 April 15, 2017 - 13:00 AMT
PanARMENIAN.Net - Should Azerbaijan take the initiative to join the Eurasian Economic Union (EEU), Armenia will express its own dissenting opinion on the issue, Armenian ambassador to Russia Vardan Toghanyan said in an interview with Interfax.
"It's too early to talk (about Armenia's stance on the matter - Ed.). It depends, in particular, on Azerbaijan's specific initiative: whether it'll want to become an observer or a full member," Toghanyan said, adding that Armenia will definitely express its position then.
Toghanian cited a certain order for joining the EEU, which is registered in the statutory documents.
"The decision (on Azerbaijan - Ed.) will be made by all the EEU members; there are five of them currently," the ambassador said.
Also, he stated that an active interest in the EEU has been observed in the past year.
"Vietnam has already received a special status, negotiations are underway with Iran on the establishment of a free trade zone, we also cooperate with Israel and Turkey," he said.
The EAEU is a regional political and economic bloc that aims to optimize the flow of goods and services between its members. Its current member states are Armenia, Russia, Kyrgyzstan, Belarus and Kazakhstan.