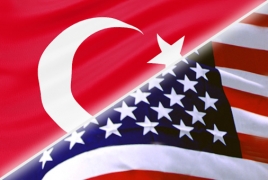 April 18, 2017 - 11:03 AMT
PanARMENIAN.Net - Donald Trump called Turkish President Recep Tayyip Erdogan to congratulate him on winning a referendum granting him sweeping new powers that exposed bitter divisions in the country, AFP reports.
The White House said they also discussed a US missile strike in Syria and the fight against the Islamic State group.
Trump's congratulations on Monday, April 17 were in contrast with EU leaders who have been reserved in their reaction to the narrow victory and even his own State Department, which earlier noted concerns expressed by international observers over the "uneven playing field".
Returning in triumph to his presidential palace in Ankara, Erdogan angrily rejected the criticism, telling the monitors: "Know your place."
The referendum was seen as crucial not just for shaping Turkey's political system but also the future strategic direction of a nation that has been a NATO member since 1952 and a European Union hopeful for half a century.
Showing no sign of pulling his punches, Erdogan said Turkey could hold further referendums on its EU bid and re-introducing the death penalty.
The "Yes" camp won 51.41 percent in Sunday's referendum, according to complete results released by election authorities.
But the opposition immediately cried foul, claiming a clean vote would have made a difference of several percentage points and handed them victory.