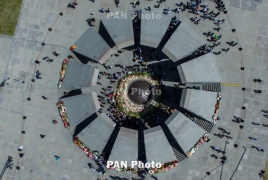 April 18, 2017 - 11:29 AMT
PanARMENIAN.Net - A​ historic event took place at the Rhode Island State House on April 13​,​ as the Armenian Genocide and the Jewish Holocaust were recognized together in a resolution introduced by ​​State Representative Katherine Kazarian. ​State Representative J. Aaron Regunberg collaborated​with Rep. Kazarian to ​​introduce the joint resolution, The Armenian Weekly reports.
The ​S​tate recently passed a ​law requiring that the schools in R.I. teach about the Holocaust and Genocide, includ​ing​ the Armenian Genocide.
Speaker of the House Nicholas Mattiello​ ​read the names of the representatives ​in support of the resolution and ​concluded with the following words, "​T​he resolution passes unanimously.​" This is the first time a resolution commemorating both devastating crimes against humanity has been introduced and passed in the R.I. State Legislature, and it coincides with the fact that both the Armenian Genocide and Jewish Holocaust are being remembered on the same date this year, April 24.
It was noted by the Speaker that both the Armenian and Jewish communities have contributed to the betterment of ​the State of Rhode Island in spite of such tragic histories.
More than 1.5 million innocent Armenians were murdered in the first genocide of the 20th century in the Ottoman Empire between 1915 and 1923. Around three dozen states have so far recognized the killings as genocide, including Uruguay, France, Russia, Germany, to name a few. Turkey still denies.