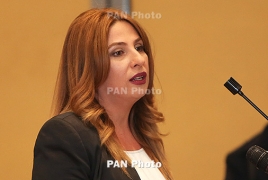 April 18, 2017 - 14:17 AMT
PanARMENIAN.Net - The newly-created Yerkir Tsirani (Land of Apricot) party seeks to remove the ruling Republican Party of Armenia from the political arena, party leader Zaruhi Postanjyan said on Tuesday, April 18, commenting on the upcoming municipal elections.
Three parties participate in elections. RPA's proportional list is headed by current mayor Taron Margaryan; opposition lawmaker Nikol Pashinyan, who was recently re-elected to the National Assembly, tops the list of YELQ bloc; while Postanjyan, who announced the Yerkir Tsirani party several weeks ago, will head its list.
"Our target is, of course, the Republican Party, and we are coming to remove them from this political arena," Postanjyan told reporters, according to Panorama.am.
"They have failed, and their long-term rule has made a devastating impact on Yerevan."
She said the party will unveil its motto and the election program on April 21.
Postanjyan, who is a lawmaker in the 5th Convocation National Assembly, promised reforms, as well as a new political system, that "would serve the Armenian people."
Asked on a possible cooperation with the YELQ, the lawmaker didn't rule out "certain collaboration," but said that Yerkir Tsirani is "going to take the Yerevan City Hall."
Elections to the Yerevan City Council will be held on May 14.