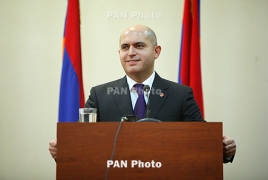 April 18, 2017 - 18:31 AMT
PanARMENIAN.Net - The Republican Party of Armenia (RPA) will run in the upcoming municipal elections with the motto "In the name of Yerevan."
Elections to the City Council will be held on May 14, with three political forces participating. RPA's proportional list is headed by current mayor Taron Margaryan; opposition lawmaker Nikol Pashinyan, who was recently re-elected to the National Assembly, tops the list of YELQ bloc; while Postanjyan, who announced the Yerkir Tsirani party several weeks ago, will head its list.
Explaining the reason behind such a choice, RPA deputy chairman Armen Ashotyan said the motto indicates reforms aimed at making the Armenian capital greener and healthier, also seeking to embrace other development prospects.
Ashotyan said that the website Loveyerevan.am will be launched in the framework of RPA's campaign.
This is "the continuation of the call we raised during the parliamentary elections," Ashotyan said, which urges for love towards Yerevan.