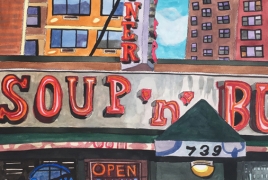 April 18, 2017 - 18:19 AMT
PanARMENIAN.Net - MAAC on the Map is a contemporary art exhibition series that aims to give a platform to emerging and established artists at The Manhattan Art & Antique Gallery - one of the largest fine art and historical design centers in the U.S. MAAC on the Map is a movement to give contemporary artists a new home on the Upper East Side and an opportunity to expose their work to a different audience. The injection of these vital contemporary artists reinforces that the Upper East Side is a potent destination for innovation, a creative hotspot where experience meets a new breed of artistic disruptor, Art Daily said.
April 22, 2017 will mark the opening and reception of Maac on the Map Edition II, featuring the artistry of Alexis Duque, Alicia Degener, Allan Gorman, Christina Massey, Lavinia - Iulia Falcan, Sarah Whalen and Yikui Gu. The exhibition will be open daily to the public until May 22, 2017.
The Maac on the Map Edition I inaugural exhibition opened on Saturday March 11, 2017 with a packed reception to honor the eight female, Asian artists featured in the first series. They included Gao Yuan, O Zhang, Xin Song, Zahra Nazary, Shiva Jlayer, Lulu Dong, Ping Zheng, Dasha Shkurpela.
Visitors had the opportunity to explore the work, curated by Paul Anavian and Michaela Boruta, in the six dedicated gallery spaces at The Manhattan Art & Antique Center. The guests were also invited to discover the wonders of the remaining 50 galleries populating the space. The artists were on hand to discuss their works in detail with the public. Smaller groups gathered at various artworks to hear the motivations, techniques and inspiration for the artist's creations.
This format will again be employed at Maac on the Map Edition II.
The curatorial vision for Maac on the Map Edition II is based on visual patterns and how we "see" the world through our own particular cultural or personal filters. It's a collection of artists who are exploring the idea of the line. How we break it, flow with it, chase it, sexualize it or define space with it to control our relationship with the world. Each artist is gazing, glaring, observing society and shifting the way we "look" at our inner and outer landscapes.
New York City comes to life in spring with the rich offering of art fairs focusing on contemporary art and design. The Affordable Art Fair, ArtExpo, Context, Frieze and 1:54 Contemporary African Art Fair, to name a few, will all be in full swing during May. This energizing MAAC on the Map Edition II collection contributes to the potent atmosphere of all of these different artists across NYC, waking us all up after the long winter.