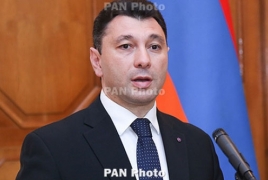 April 20, 2017 - 23:12 AMT
PanARMENIAN.Net - Negotiations over establishing a coalition with the Armenian Revolutionary Federation-Dashnaktsutyun are underway, spokesman for the ruling Republican Party (RPA), deputy speaker of the 5th Convocation National Assembly Eduard Sharmazanov told reporters on Thursday, April 20.
"In all probability, a political agreement between the RPA and ARFD will be signed in 2017, and there will be two ruling parties in the parliament," Sharmazanov said following an RPA Executive Body meeting.
He said that both parties are inclined to continue the cooperation, Aysor.am reports.
In response to media speculations, suggesting that prime minister Karen Karapetyan doesn't favor the coalition with the ARFD, Sharmazanov said:
"Prime Minister Karen Karapetyan is the first deputy chairman of the Republican Party, but as I said, RPA and ARFD are very close to signing a political cooperation agreement."
According to the final assessment of elections provided by the Central Electoral Commission, the ruling Republican Party of Armenia (RPA) claims 58 mandates, including three for minority representatives (Yezidi, Assyrian and Kurdish), the Tsarukyan bloc has 31 seats overall, including one for a Russian community representative, while YELQ bloc and the Armenian Revolutionary Federation - Dashnaktsutyun get nine and seven parliamentary seats, respectively.