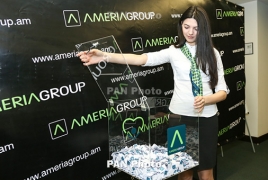 April 21, 2017 - 18:32 AMT
PanARMENIAN.Net - The final draw of Ameriabank and VISA's card campaign was held at Ameriabank head office on Friday, April 21. The two winners will get a ticket for two people each for Eurovision semifinal 2017.
Two numbers were drawn - 1240, 1676 - with tickets also including airfare and accommodation. Two more numbers were taken out of the box randomly in case the original winners refuse to take the tickets.
The draw was held for Ameriabank cardholders who had spent the equivalent of at least 100,000 AMD using their VISA cards (other than Business) during the period from February 23 to April 11, 2017.
To collect their prizes winners should visit Ameriabank's head office from April 21 to April 26. No prizes will be available after this period.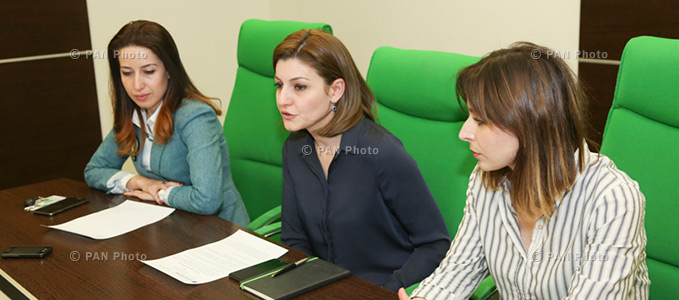 "We are summing up the campaign we launched together with VISA, which had two components. The first was aimed at card sales promotion as we offered our clients to take Visa Gold cards for an annual fee of AMD 5000, whereas the standard price is AMD 20,000 per annum. The proposal received overwhelming response among the customers," Head of Ameriabank Client Services Manager Helen Danielyan said.
"The second component sought to boost non-cash circulation. We had particularly targeted the segment, which make small transactions, and wanted to provide incentives to the middle class, having set a threshold of AMD 100,000. Those who spent the equivalent of at least 100,000 AMD in the period from February 23 to April 11, 2017 participate in the draw."
2780 cardholders met the requirement of at least AMD 100,000 transactions, with 2130 of them Visa Classic and Visa Electron cards, she said.
Also, Danialyan said such events will further be organized in the near future, aimed at bolstering non-cash card transactions.
An SMS containing the individual draw reference number had been sent to each cardholder meeting eligibility criteria.
Ameriabank is a dynamically developing bank and one of the major and most stable financial institutions in Armenia. The first investment bank in Armenia, Ameriabank has been providing a large package of innovative banking services since 2007. Now Ameriabank CJSC is a universal bank offering corporate, investment and retail banking services in a comprehensive package of banking solutions.