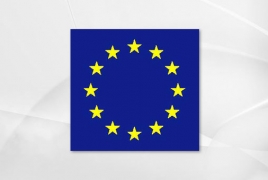 April 21, 2017 - 17:03 AMT
PanARMENIAN.Net - The eurozone economy grew at its fastest pace in six years in April on the back of strong demand and "widespread optimism" about the outlook, a closely watched survey showed Friday, April 21, AFP reports.
Analysts said the report was positive overall but it was still unclear when the European Central Bank might end its massive stimulus programme after years of pumping cheap money into the economy.
Data monitoring company IHS Markit said its April Composite Purchasing Managers Index came in at 56.7 points, the highest reading since April 2011 and up from 56.4 points in March.
The PMI measures companies' willingness to invest in their business and so gives a good idea of how well the underlying economy is performing.
Any reading above the boom-bust 50 points line indicates the economy is expanding.
IHS Markit said the 19-nation eurozone economy was doing well on all fronts.
"Job creation... rose to the highest for almost a decade as firms boosted operating capacity in line with buoyant demand and widespread optimism about future prospects," it said in a statement.
"Price pressures, meanwhile, remained among the strongest seen over the past six years," it added.
Inflation, which has bumped along for years well short of the ECB's near two-percent target, has picked up recently, reflecting an increase in underlying demand.
Broken down, the figures showed the services sector -- which accounts for the bulk of economic activity -- rose to 56.2 points in April from 56 points in March.
The manufacturing output PMI meanwhile jumped to 58 points from 57.5.