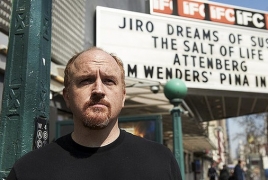 April 21, 2017 - 17:33 AMT
PanARMENIAN.Net - Louis C.K. received the top honor at 76th Annual Peabody Awards which was announced on Thursday, April 20. Louis' shows "Horace and Pete" and "Better Things" were among this year's Entertainment honorees given by University of Georgia's Grady College of Journalism and Mass Media, AceShowbiz said.
FX's "Better Things" is a collaboration between Pamela Anderson and Louis. The series offers a "raw examination of the vicissitudes of working motherhood, crackling with feminist verve and energy, that consistently cuts new ground." Meanwhile, the jurors described web series "Horace and Pete" as "truly independent and groundbreaking demonstration of how quality television is expertly produced for the new media environment, all the while building upon decades of artistry and craft."
Another Peabody winner was Beyonce Knowles' visual album "Lemonade". The jurors praised the album, saying that it "challenges our cultural imagination while crafting a stunning and sublime masterpiece about the lives of women of color and the bonds of friendship seldom seen or heard in American popular culture."
Competing against the 60 previously announced finalists, FX's comedy "Atlanta" succeeded to nab a trophy. The rookie show created by Donald Glover won critical acclaim for its ability to blend "vibrant character study and rich socio-political commentary in delivering a detailed and textured exploration of a Southern city" through a rap scene.
HBO's "Veep", meanwhile, caught the jurors' hearts with its perfect cast ensemble. The workplace comedy "not only captures the zeitgeist of the current bizarre political moment but transcends its own form to deliver a sobering message, with sharp dialogue, street savvy-and lots of laughs."
The last two honorees were BBC's "Happy Valley" and Britain's Channel 4 and Hulu's "National Treasure". The jurors dubbed "Happy Valley" as "a fresh take on the British crime drama that deals boldly and unflinchingly with the darkest human behavior while keeping its heart and even a tart sense of humor." Meanwhile, "National Treasure" won as it offered a "dark and timely examination of sexual abuse at the hands of privileged celebrity." Robbie Coltrane starred on the show as a comedian accused of committing rape 15 years earlier.
The announcement of Entertainment winners followed the Documentaries winners, which were previously revealed on Tuesday, April 18. Meanwhile, winners in News, Radio/Podcast, Children's Programming, Education and Public Service will be announced later on Tuesday, April 25.
Peabody Award winners and finalists will be celebrated at a gala event on May 20 in New York. The event will be recorded for a television special to air on June 2 at 9 P.M. on both PBS and Fusion networks. Rashida Jones, a previous Peabody winner for "Parks and Recreation", has been tapped to serve as host.