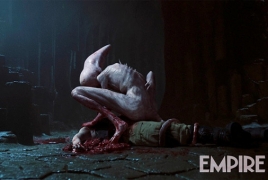 April 21, 2017 - 17:42 AMT
PanARMENIAN.Net - "Alien: Covenant" continues releasing promotional stuff ahead of its release date on May 19. New still images of the sci-fi-horror flick have made its way out via Empire, featuring never-before-seen details from the movie, AceShowbiz said.
The first photo features a mysterious figure, presumably Michael Fassbender's David, on the Engineer's planet. He is seen unleashing pods which were previously featured in "Prometheus".
The second image, meanwhile, features Fassbender as android David in what is seemingly a flashback with the CEO of Weyland Industries. Of David's character, screenwriter John Logan said in the issue, "I found that character really galvanising. My approach was to create a backstory with Weyland, and the disappointment David has with humanity over the years, finally letting that go deep into his psyche in a very damaging way. Every great story needs a great antagonist, and David in a way is the antihero of these 'Alien' movies."
The third picture sees a nauseating scene of Neomorph consuming its victim. The alien is sitting on the victim's body, with flesh chunks surrounding it. The article on Empire says that Neomorph is inspired by Ridley Scott's interest in nature documentaries about beasts. "Some of those nature videos are so stomach-churning that they don't pay me enough to watch them," says Logan. "But Ridley will see something to do with insects swarming, for example, which eventually finds its way into a movie. Usually there's some sort of grotesqueness we find interesting," he adds.
"Alien: Covenant" follows the story of colony ship Covenant which travels to a planet faraway. The crew think they will discover an uncharted paradise in that planet, but they find a dark and dangerous world instead.
Also starring in "Alien: Covenant" are Katherine Waterston, James Franco, Danny McBride, Demian Bichir, Billy Crudup, Carmen Ejogo and Noomi Rapace.