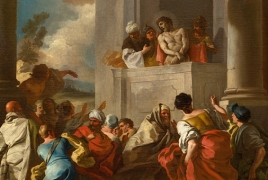 April 22, 2017 - 17:08 AMT
PanARMENIAN.Net - A first-ever exhibition of the works of Francesco de Mura makes its only northeast stop at the Frances Lehman Loeb Art Center this spring. In the Light of Naples: The Art of Francesco de Mura is on view April 21-July 2, 2017, Art Daily said.
Organized by the Cornell Fine Arts Museum at Rollins College, In the Light of Naples is the first monographic presentation of De Mura's art and includes over forty loans from Italian collections as well as those from the United States including the Metropolitan Museum of Art and the National Gallery of Art.
"This show is historic on numerous levels," explains James Mundy, the Anne Hendricks Bass Director of the Art Center. "Not only is this the first exhibition dedicated to De Mura, but it also signals the last manifestation of the highly evolved and refined illusionism of the late Baroque age before the advent of the revolutionary simplicity of Neo-classicism. Visitors will receive a rare treat in viewing these stunning and vibrant works."
De Mura (1696-1782) could be termed the last great painter of the Baroque and Rococo periods. He showed extraordinary artistic talent at a young age, entering the prestigious studio of Francesco Solimena when he was just twelve years old. Active in Naples, De Mura created elaborate illusionistic palace and church decorations depicted in bursts of confectionary colors as well as smaller portraits, biblical, and historical paintings. De Mura was the court painter of the Bourbon King Charles VII of Naples who presided over the Kingdom's Golden Age.
Yet De Mura has often been overlooked and knowledge of him severely limited. One major reason for this is that about a third of his works were destroyed in February 1944, during World War II, when Allied forces bombed Naples and the abbey church of Monte Cassino.
The more than forty paintings and drawings in this reveal much about the life of De Mura. "His essence lives in his art, and it is there we must look for him, since few of his words survive in letters and documents," says exhibition curator Arthur R. Blumenthal, Director Emeritus of the Cornell Fine Arts Museum. "In De Mura's art, we sense an affinity for Neapolitan light, for the city's music and theater that pulse like a heartbeat. We also see a single-minded intensity and discipline. De Mura felt a deep respect for the long line of geniuses who preceded him—from Caravaggio to Giordano to Solimena. Thus, through this exhibition, we see how De Mura 'lived' his art and how he lived for his art."
Blumenthal also notes the intense physical demands creating these works required. "We can imagine the sheer physical effort and backbreaking hours De Mura poured into his painting—something barely imaginable today. We cannot envision, without heartbreak, the wiry De Mura, sprawled on scaffolding in the abbey of Monte Cassino creating his glorious paintings, knowing that, two hundred years later, Allied bombs would destroy it all. In the Light of Naples is not only the first exhibition of De Mura's art; it is a revelation of the broadness and fullness of his creative vision. For the first time, we see where De Mura came from, the artist he developed into, and what he left behind. We discover the soul of the man."
A completely illustrated scholarly catalogue accompanies the exhibition, which is underwritten while at Vassar by Christie's.