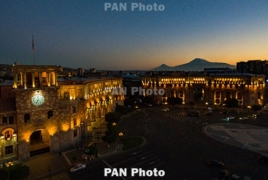 April 22, 2017 - 20:30 AMT
PanARMENIAN.Net - The ruling Republican Party of Armenia (RPA) sees both YELQ bloc and Yerkir Tsirani (Land of apricot) party as rivals in the upcoming elections to Yerevan City Council, current mayor of the Armenian capital Taron Margaryan said.
"We are not underestimating either of our opponents," Margaryan, who heads RPA's proportional list told reporters on Saturday, April 22.
Weighing in on the problems the city faces now, the mayor expressed the belief that his team has worked hard throughout the last four years.
"Yerevan is breathing and has a lot of room to develop. The most important of all is for the city authorities to be at least aware of the various issues the city is facing," Margaryan said.
Three parties participate in elections. The ruling Republican Party's proportional list is headed by Margaryan; Pashinyan, who was recently re-elected to the National Assembly, tops the list of YELQ bloc; while 5th Convocation National Assembly lawmaker Zaruhi Postanjyan, who announced the Yerkir Tsirani (Land of Apricot) party several weeks ago, will head its list. Municipal elections are slated for May 14.