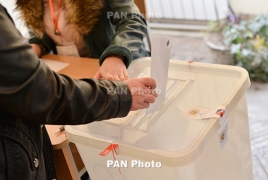 April 22, 2017 - 21:53 AMT
PanARMENIAN.Net - 62.3% of the residents of Yerevan have said that current mayor Taron Margaryan, who heads the ruling Republican Party's proportional list in the upcoming elections, is capable of solving the problems of the city, a fresh poll revealed on Saturday, April 22.
Three parties participate in elections. The ruling Republicans' proportional list is headed by Margaryan; Pashinyan, who was recently re-elected to the National Assembly, tops the list of YELQ bloc; while 5th Convocation National Assembly lawmaker Zaruhi Postanjyan, who announced the Yerkir Tsirani (Land of Apricot) party several weeks ago, will head its list. Municipal elections are slated for May 14.
The survey was conducted by Gallup International Association on April 12-20, with 1044 respondents involved overall.
According to the research, 4.2% and 12.1% of the participants said Postanjyan and Pashinyan will be able to tackle the key issues. The remaining part of the respondents were either undecided or named people not running for the mayor's post.
Also, 61.2% of Yerevan residents said they are going to vote for Margaryan, 11.5% for Pashinyan, and only 3.9% for Postanjyan.