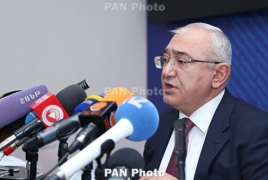 April 26, 2017 - 22:41 AMT
PanARMENIAN.Net - The Central Electoral Commission on Wednesday, April 26 asked the constitutional court to reject an appeal initiated by the Armenian National Congress - People's Party of Armenia (ANC-PPA) bloc.
In court, the CEC acts as a respondent in the case, whereas the ANC-PPA seeks the annulment of results of parliamentary elections, held across Armenia on April 2.
"The CEC rejects the appeal. I ask the court to consider it clearly unfounded and reject it," CEC chairman Tigran Mukuchyan said in his speech.
On Tuesday, the bloc's lawyer presented to the constitutional court instances of elections fraud committed by the ruling Republican Party (RPA), The Armenian Renaissance, Tsarukyan bloc, YELQ and ORO alliances, as well as the Communist Party.
The ANC-PPA on April 14 applied to the constitutional court to challenge the legitimacy of the results of parliamentary elections, held across the country on April 2. ANC-PPA had earlier submitted such an appeal to the Central Electoral Commission, which, however, was turned down shortly.