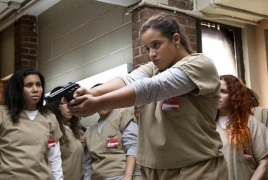 April 29, 2017 - 13:20 AMT
PanARMENIAN.Net - The next season of Orange is the New Black isn't supposed to premiere until June 9th, but the first episode has already leaked, Engadget said. That's because a hacker or group of hackers going by the name 'TheDarkOverlord stole the content from a third party, and they're demanding Netflix pay a ransom in order to keep the rest of the season private. Late Friday night, April 28, TheDarkOverlord tweeted about content belonging to ABC, FOX, IFC and National Geographic, saying "We're not playing any games anymore."
According to TorrentFreak, the source of the breach was Larson Studios, an audio production company in Hollywood that does ADR (Automatic Dialog Replacement) work. The hackers claim Larson agreed to pay up but didn't, and now they're trying to squeeze Netflix. In a statement, Netflix has said "We are aware of the situation. A production vendor used by several major TV studios had its security compromised and the appropriate law enforcement authorities are involved."