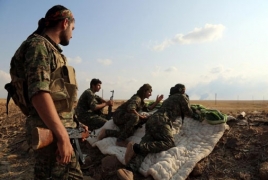 May 1, 2017 - 14:48 AMT
PanARMENIAN.Net - In an article published on Monday, May 1, The Guardian's Martin Chulov has weighed in on the ever-closer ties between the United States and Kurds, which, according to the author, stoke Turkish border tensions.
"Despite increasing Turkish rancour, Washington continues to see the Kurds as an indispensable ally in the next phase of the Islamic State campaign – the push towards Raqqa," the publication said.
"In Turkey's eyes, the Trump administration was supposed to change all that. Anger at Barack Obama's policy of using the Kurds as U.S. proxies had given way to hope that the new president would either send U.S. forces to do the job, or switch loyalties to localised Arab units, which Turkey is trying to raise.
"With the U.S.-Kurdish pact consolidating, not weakening, the Turkish president, Recep Tayyip Erdoğan, has reverted to claiming that the burgeoning alliance could end up empowering a Kurdish push for autonomy, and stoke the fires of insurgency inside Turkey's own borders. When Turkey launched the pre-dawn airstrikes on Tuesday (April 25), the U.S. was given just 52 minutes' warning."
Washington has sent more than 500 American special forces and advisers to assist the Syrian Democratic Forces, an umbrella group led by the YPG, which includes some Arab units. Many YPG leaders are former PKK commanders who honed their skills fighting the Turkish army for decades.
In Iraq, at least 5,000 U.S. troops are advising the Iraqi army in the fight against Isis. The centrepiece of that war – the push to retake Mosul – has ground into a seventh month, with airstrikes failing to dislodge determined militants in the west of the city.