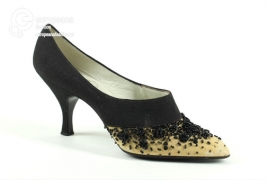 May 5, 2017 - 17:29 AMT
PanARMENIAN.Net - Fashions curators, academics, students and enthusiasts can now discover and explore more than a million fashion images contributed by nearly 40 museums and fashion brand archives from 13 European countries on the Europeana platform, Art Daily reports.
Europeana Fashion brings together an incredible wealth of content including historical clothing and accessories, contemporary designs, catwalk photographs, drawings, sketches, catalogues and videos from museums and archives across Europe, and provides a range of exciting new features for users to explore them. The Europeana Fashion collection launches on the Europeana platform with new galleries curating the collection by themes, such as fashion illustrations, sportswear, prints, or Haute Couture, and highlights by fashion experts. Fashion lovers are invited to tailor the content themselves: they can now access exactly what they are looking for by using new filters including designers, techniques, materials, and types of clothing. The collection also features exclusive editorial content, including blog posts and online exhibitions. The first one to launch, "Past to Present: Fashion Re-Interpretations", explores the inspiration and influence of historical costumes on contemporary fashion.
The Europeana platform provides a unique space for heritage institutions to showcase and share their collections online, enabling visitors to search and download high quality content: users can compare fashion movements and styles across time periods and regions across Europe. Contributing institutions include public museums, like the Victoria and Albert Museum (UK), Les Arts Décoratifs (France), MoMu (Belgium), as well as fashion brand archives, such as the Missoni archive, the Emilio Pucci Archive and the Museo Salvatore Ferragamo, and archives of fashion photographers, as Paul Van Riel and Etienne Tordoir, amongst many others.
Previously hosted on an independent website, the collection is now fully integrating to the Europeana platform to live alongside Europeana Art and Europeana Music. The collection will be curated by the Europeana Fashion International Association experts, who developed and enriched it over the past 5 years.
Marco Rendina, Technical Director, says "we are delighted to provide access to more than a million fashion items and join the bigger Europeana family to share the powerful advantages the platform has to offer". The Fashion collection will benefit from the technical advancements and new features developed on the platform by the Europeana Foundation. Harry Verwayen, Europeana Deputy Director, says "Europeana Foundation is very pleased to increase our collaboration with the Europeana Fashion International Association, and to welcome their curatorial expertise on the Europeana platform".