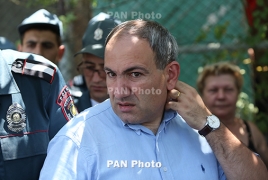 May 8, 2017 - 17:01 AMT
PanARMENIAN.Net - YELQ bloc on Monday, May 8 promised support to the socially vulnerable residents of Yerevan who will declare in a letter to the City Hall that they haven't taken election bribes in the municipal elections, slated for Sunday.
According to Nikol Pashinyan, who runs for the mayor's post, the bloc is planning to add a new article in the city budget in the event of securing a majority in the City Council.
The socially vulnerable residents, according to the new proposal, will receive AMD 15,000 (apx. $31) each, which Pashinyan said will help "get rid of the vote-buying practice."
According to YELQ's own estimates, some AMD 3 billion could be necessary to cover all such costs, Armtimes.com says.
Three parties participate in elections. The ruling Republican Party's proportional list is headed by current mayor Taron Margaryan; Pashinyan, who was recently re-elected to the National Assembly, tops the list of YELQ bloc; while 5th Convocation National Assembly lawmaker Zaruhi Postanjyan, who recently announced the Yerkir Tsirani (Land of Apricot) party, will head its list.